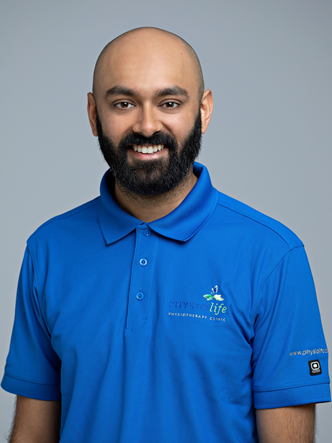 Physiotherapist
BKin., MPT, ACCDN
Amar graduated from the University of British Columbia with a Bachelor's of Kinesiology, and Masters Degree of Physical Therapy. Amar was part of the Northern and Rural Cohort at UBC where he completed clinical placements in rural communities allowing him to see a wide variety of patients. Through this experience, he was able to utilize numerous techniques to assist patients' in their rehabilitation journey.
Amar has a keen interest in treating injuries related to sports, orthopedics, and MVA's. He also enjoys helping patients with back, neck, shoulder, and knee pain. Amar's approach to therapy is to provide patient-centered evidence-based care through education, manual therapy, and exercise prescription. His treatment is rooted in providing one-on-one care and spending the necessary time to formulate a plan of action alongside his clients to achieve their goals. He's a continuous learner, always looking to advance his skills and knowledge. Currently, he is pursuing his orthopedic levels and sports physiotherapy certification.
Amar's interest in physiotherapy began from his own personal experience with injuries and rehab through sports. He was fascinated by the way his physiotherapist was able to use multiple different techniques to get him game-ready as quickly as possible. From there, he began looking into the steps required to become a physiotherapist himself.
Amar is fluent in English and Punjabi, and can serve patients in both languages. When he is not in the clinic, Amar is either enjoying a good book, playing basketball, golfing, or spending time with his wife and their dog.