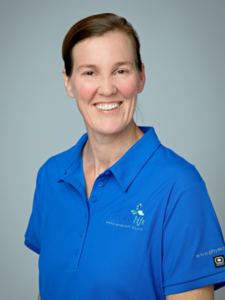 As a registered massage therapist, Karin (she/her) focuses on progressive, specific change for her patients in response to their goals.  Committed to patient-centered, gender-affirming care, Karin strives to offer unconditional positive regard so people feel they can bring their full selves into the treatment room.  Your appointment will include history-taking and assessment, hands-on treatment and discussion of home-care to extend the benefits of the massage.   Language will relate to anatomy, treatment and your health concerns.
Karin's qualifications include a Bachelor of Science (Biology) from the University of Alberta and a diploma from the West Coast College of Massage Therapy (New Westminster).  Loving learning and sharing knowledge, Karin is happy to answer your questions as she is able.
Outside the clinic you'd probably find Karin up to her elbows in the garden, devouring a novel or a yummy meal, and generally rejoicing in this good green planet.  She dotes on her family and is grateful to be part of a wonderful community.  Karin se débrouille en français.