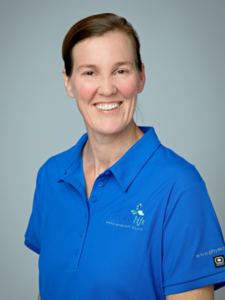 Karin delights in combining her knowledge of anatomy with the varied techniques of massage therapy to help create positive, specific change for her patients. A graduate of the West Coast College of Massage Therapy, Karin also has a Bachelor of Science (biology) from the University of Alberta. She has a deep love of learning and sharing her knowledge.  Karin is happy to answer your questions and looks forward to being part of your health journey.

Karin finds it a privilege to create therapeutic space for her diverse patients, identifying a specialized treatment plan and carefully choosing home-care to extend the benefits of the massage. An important part of massage therapy is working together so that patients can achieve their goals: it is important to feel good in one's body and move in the ways one would like!

Karin loves being in her garden, eating great food, enthusiastically discussing books and movies, chasing birds with binoculars, identifying native plants and animals. She dabbles in quite a few things that she will never master but still pursues, like speaking French, baking bread, playing fiddle and painting. Karin parle français assez couramment.  She absolutely dotes on her family and is grateful to be part of a wonderful community.