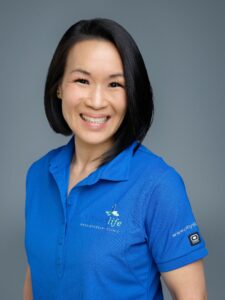 Michelle received her massage therapy diploma from MacEwan University in Edmonton, Alberta. She was the Gold Award winner for the Massage Therapy Foundation student case report contest in 2017 and has the article published in the International Journal of Therapeutic Massage and Bodywork.
Her interest in health and wellness began in university, where she obtained a Bachelor of Science in Kinesiology from Simon Fraser University in 2005, as well as certificates in Health and Fitness Studies, and Nutrition. She became a group fitness instructor, personal trainer and yoga teacher. For over 10 years, Michelle had the wonderful opportunity of traveling and teaching yoga, teaching in cities around the world such as Hong Kong, Stockholm, Istanbul and Brisbane.
Michelle uses a variety of techniques, including deep tissue massage, trigger point therapy, myofascial release, hydrotherapy, stretching, joint mobilizations, manual lymphatic drainage and remedial exercise. She has a strong interest in pregnancy massage and enjoys working with prenatal and postpartum clients. She invites her clients to develop more awareness and connection to the body through massage, and often encourages deeper attention to breath. She aims to integrate whole-body relaxation into her treatments.
Outside of the clinic, Michelle enjoys spending time with her family, caring for her two young sons, teaching hot yoga, and practicing yoga and pilates. When she finds time, she also enjoys long walks, cycling, and snowboarding.