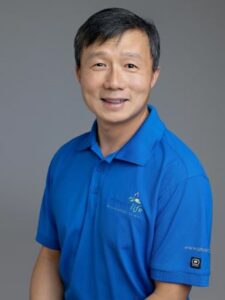 Registered Acupuncturist and Herbalist
R. TCMP, Dr. TCM (dip)
At the age of 18, Dong began a journey of self-healing by practicing QiGong (Zhong Gong).  This led him towards daily meditation, and an interest in helping others.  Dong emigrated to Canada in 2003, but returned to Shanghai, China in 2011 to complete two years of clinical experience working as an assistant with a TCM master.  Upon returning to Canada, Dong went on to complete his Doctor of Traditional Chinese Medicine at Oshio College of Acupuncture and Herbology in Victoria, B.C. in 2017.  Since then, he has practiced traditional Chinese medicine, acupuncture, acupressure, cupping, auricular therapy, foot reflexology, yang shen (health preservation), and meditation.
Over the years, Dong has helped patients find relief from headaches, insomnia, dizziness, stress and anxiety, digestive problems, other internal organ disorders, and chronic pain syndromes.  Dong has also successfully treated women's health concerns, such as menstrual pain and dysfunction, and reproductive health and hormonal imbalances.  Dong enjoys leading workshops for self-care acupressure, health maintenance, Taoist Meditation and Zen Meditation. 
As a Buddhist with an open heart, Dong realizes that body problems are deeply rooted in our mind patterns, which lead our thoughts, actions, and words.  Every body-mind issue needs to be balanced with spirit and pure awareness, which is why Dong can be found exploring the elements of science, yoga, and meditation in his spare time.  He also enjoys spending time with his wife and three children.  Dong can converse in English and is also fluent in Mandarin.